After having a Single-Sign-On (towards Azure Active Directory)/Multi-Tenancy setup running on Dynamics NAV 2018 for some time, I tried to create the same setup with Microsoft Dynamics 365 Business Central 2018 fall release.
And to my surprise it failed with this error just after logging in: "The value for the WSFederationLoginEndpoint configuration settings cannot be empty.". My "WSFederationLoginEndpoint" setting was NOT empty, so the error does not make any sense.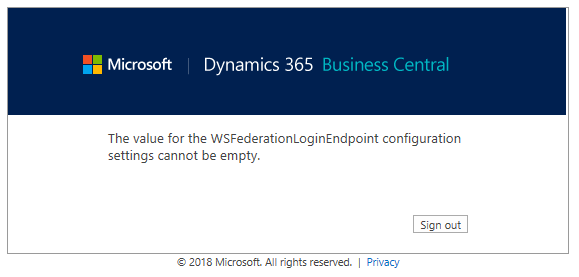 It puzzled me for a while because these setups was working without any problems:
Dynamics NAV 2018, Single Tenant
Dynamics NAV 2018, Multi Tenant
Dynamics 365 Business Central 2018 fall release, Single Tenant
So the Single Tenant BC was working, but failed as soon as I configured it for Multi Tenancy.
Finally after weeks of messing around I gave up and reached out to my contacts from Microsoft Development Center Copenhagen to see if they could help me solve the issue (first I off cause raised a ticket with Microsoft Support). Luckily Freddy from https://freddysblog.com/ knew exactly what was wrong with my setup – and was able to send me the exact solution. And made the effort to do this on a Saturday morning! 🙂
THANK YOU FREDDY 🙂 !!! – please click here to visit his blog!
Oh – I almost forgot. If you have this error, empty these configurations settings from the Service Tier:
AzureActiveDirectoryClientId
AzureActiveDirectoryClientSecret
These two settings are used in Dynamics NAV 2018, but should be left empty in Microsoft Dynamics 365 Business Central.